Copyright Licensing New Zealand (CLNZ) is a not-for-profit organisation that provides licences to help make copying, scanning and sharing printed works easy and legal.
Mission
To grow New Zealand's creative economy by enabling access to a world of content.
​Our purpose
To provide access to content; to represent authors and publishers; and to ensure they are paid when their work is used.
​Our values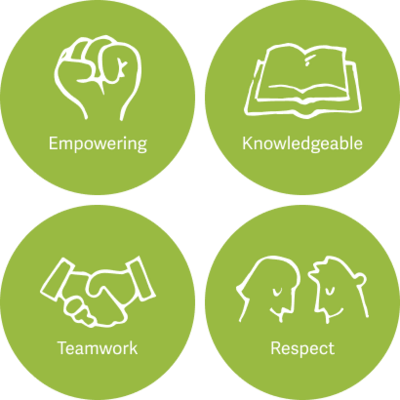 ​Who we are
Advocators
As a not-for-profit organisation, we represent the interests of authors and publishers from New Zealand and around the world. Paying them when their works are copied. Established on the principles of collective rights management, we encourage respect for copyright and for those who create the work we love to read.
Facilitators
We are perfectly positioned between publisher/author and reader to issue a Copyright Licence that makes copying, scanning and sharing printed material (e.g. books and journals) simple and legal for education providers, businesses and government departments, for the benefit of everyone.
Contributors
We actively contribute to the production and growth of new works in New Zealand by investing in publishers and authors new projects and supporting industry initiatives. The CLNZ Cultural Fund is provided to people and projects that benefit cultural or social purposes that are directly in the interests of the rightsholders we represent.
Our main role is to
Provide licences for the reproduction of extracts from books, journals and periodicals
Distribute licensing fees collected to copyright owners
Encourage respect for copyright
Take action against copyright infringement